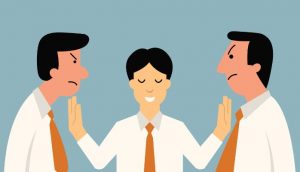 I've just been texting with my brothers.  One is a dyed-in-the-wool Democrat and the other a Reagan Republican.  I try to act as a mediator in these text battles because of the vitriol that gets stirred up.  As a professional, that would be my role, so I sometimes naturally gravitate toward promoting dialogue and trying to tease out ideas and generate more empathy and find common ground.  I have my political leanings, some of which are passionate, but I keep those secondary when I enter these discussions.  My objective is to further discussion.
Tomorrow, I'll be presenting at the Equal Employment Opportunity Commission's annual EXCEL Conference in Chicago on this very topic.  The title of the talk is Managers as Mediators.
The three questions we're going to ask in that presentation are:
In any given workplace conflict, can you
Maintain the privacy interests of the parties?
Remain neutral, objective, and impartial despite your own possible stake or role in the conflict and its outcome?
Empower the parties to generate their own solution?
If you can answer yes to all three, then mediate away.  If not, then shy away.
For novices, be cautious and strategic in your thinking when colleagues approach you with their conflicts.  Help as much as you can but only be a mediating presence if you can be neutral, keep things confidential, and allow them to be in charge of the outcome.
If you are more advanced and experienced in emergent workplace mediation, then perhaps you'll want to think about what kind of mediator you're going to be.  Choices include:
Facilitator, where you e

ncourage open dialogue, understanding and self-reflection, and h

ighlight common ground and mutual concerns.

Therapist, where you p

robe more deeply and conduct a greater exploration of the conflict and relationships, and e

xplore possibilities for healing, apologies and forgiveness.

Bargaining Agent, where you b

roker an acceptable settlement through bargaining, identifying trade-offs or offering suggestions, incentives, or pressure.
These take skill and a certain level of organizational influence.  Some would argue that they even require a certain amount of professional training.
Whatever you do, do no harm.  Mediator energy helps people get along in the workplace and brings people together instead of dividing them.  A unified workforce will achieve your organization's goals and mission.